We were featured on the Rappler today in an article about our 66th Partner Library in Cuyapo Nueva Ecija!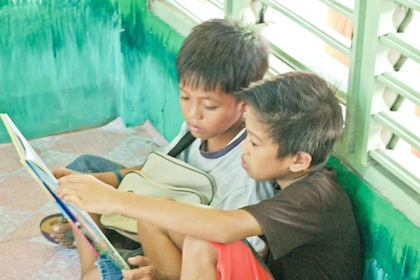 NUEVA ECIJA, Philippines - The travel to Cuyapo, the farthest municipality in Nueva Ecija and a mere hour away from Baguio, took almost 4 hours. But our intention of traveling this far was not only to visit the beauty and feel the serenity of far-flung barrios.
We went there for a very specific purpose – to visit the public elementary school of Cuyapo Central School. We came to bring brand-new books and educational materials for children and teachers.
From the main highway, getting to the place means taking a right into a little road you'll likely miss unless you're specifically looking for it. Then you follow the thoroughfare where you see more tractors and tricycles than cars. Never-ending rice paddies line the either side of the road where carabaos bask in the early morning sun. And just when you feel that you might've taken a wrong turn, you arrive in the little, quiet town of Cuyapo.
Our friends from "Books for a Cause" recommended Cuyapo Central School to be the next partner-school of the Acts of Hope for the Nation or Ahon Foundation. Cuyapo Central School has a nice campus gifted with a sprawling field and spacious learning parks. Its library is however noticeably neglected and suffers from a lack of quality materials.
Before our partnership, the school had only a simple room with a humble collection of books. Termites made it to the place, destroying books and shelves. Cracks in the floor had been an eyesore. But within the span of one month, after finding cheap but creative ways of fixing the place, they were able to re-create the reading space into one that is so different from what it was.